This is the follow up of my previous preset bank for the classic Synth1 VSTi.
You will find 128 presets, from '80s oriented sounds to wobble wub wub dubstep wub sounds to the most hardcore gabber horrifying drumz.
Also included : a cowbell.
Click on the link to download the Synth1 presets bank :
–>  download Synth1 Chris Bank Vol 2 <–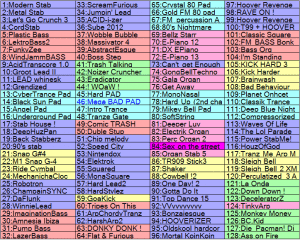 Don't hesitate to use the modwheel on some presets.
here's the patch list :
1:Modern Stab : a typical chord stab, use modwheel to open filter, filter env is velocity sensitive

2:Metal Stab : another chord stab, bandpass filter for ever
3:Let's Go Crunch 3 : gritty and dirty
4:CordStab : a more 90's oriented chordstab
5:Plastic Bass
6:LektroBass2
7:FunkyZee : funky, with a brass feeling
8:WindJammBASS
9:AcidTranscore 1.0 : agressive lead, don't hesitate to turn arpeggiator on

10:Groot Lead II : saturate when played poly !
11 LEAD whinesk
12:Grendized
13:CyberTrance Pad : ultra soft pad, ready to trance !

14:Black Sun Pad
15:Angel Pad : smooth pad, with a vocal choir feeling

16:Underground Pad
17:Stab House ! : typical 90's stab, with filter env wired to velocity, use mod wheel for a funky 80's synth style !
18:DeepHuzPan
19:Back Stabberz
20:90s stab
21:Snap G#4 : a finger snap attempt ! use mod wheel to adjust the strenght
22:M1 Snap G-4 : tried to recreate something like the Korg M1 snap finger sound
23:Ride Cymbal
24:MechanichaClock : ring modulation + hard unison & chorus settings !
25:Robotron
26:ChampainSYNC : hard sync lead in full effect
27:DaFlunk
28:WinnieLead
29:ImaginationBass

30:Amnesia Ibiza

31:Pump Bass
32:LazerBass : fast lazer attack for this techno goa trance what-you-want bass
33:ScreamFurious
34:Jumpin' Lead
35:ACID-i-zer
36:Sube 2012
37:Wobble Bubble : use Modwheel to adjust LFO speed

38:Massivator 4 : wub wub wub wub wub wub wub wub wobble bass wobble wob

39:AbstractEsque
40:Boss Step
41:Trash Talking : Delay Lama going psychodinguo

42:Noizer Cruncher
43:Eradicator
44:! W0aW !
45:Hard PAD
46:Mega BAD PAD
47:Intro Trance
48:Tranze Gate
49:Comic TRASH
50:Duble Stup
51:Chip melody : 8 bit chip tune style arp
52:Speed City
53:Nintendox
54:Elektrok
55:Squared
56:MonaSquare
57:Hard Lead2
58:HardStylez : use modwheel to add grit
59:GoaKick
60:Tripes On This
61:ArpChordyTranz
62:HarshArp2
63:DONKY DONK !
64:Flat & Furious
65:Crystal 80 Pad
66:Gold FM 80 pad
67:FM percussion Arp
68:80's Nightmare

69:Bellz Starr
70:E-Piano 12
71:DX EPiano : a typical FM electric piano
72:E-Piano 13

73:Can't get Enough
74:GongBellTechno
75:Gala Organ
76:Get Away : electronic flute

77:MonoNasal
78:Hard Up (2nd chance edit)
79:Mikey Bell Pad
80:SoftString

81:Deeper Luv : trying to recreate a classic B3 organ sound

82:Electrik Organ
83:Perc Organ 2
84:Sex on the street : a customized version of the CZ Organ from my previous Synth1 preset bank, you can hear it through "monstachorus" for more vibeness :

85:Organ Stab 5
86:TR909 Stick3
87:Shaker : for moving (with the shakers)
88:Cowbell !2
89:One Day! 2

90:Gotta Do It

91:Too Dance 15

92:VVyvvyvvvy : a hooverized kind of synth
93:Bonzaiesque
94:HOOVERIZER
95:Oldskool hardcore : you know the score
96:Mortal KoinKoin
97:Hoover Revenge : let's do it
98:RAVE ON!
99:Hoover Revenge 2

100:T99 + HOOVER
101 Classic Square
102:FM BASS Bonk
103:Bass Org
104:I'm Standing
105:KICK HARD 3
106:Kick Harder
107:Brainwash : warning ! never sound the same way twice
108:Bad Behaviour
109:Planet Onhcet
110:Classik Trance
111 Deep Blue Night
112:Compressorized
113:Waves Of Life

114:The Lol Parade

115:Power StabMe!
116:Houz0fGod
117:Tranz Me Arp Me


118:Sleigh Bell
119:Sleigh Bell 2 XMAS : it's Christmas ! happy X-mas ! We wish you a merry X-mas
120:Perculatized 3 Arp
121:La Onda
122:Down Down !
123:DeceleratorZ : some "star wars like" sound FX of a ship
124:TinkyArp
125:Monkey Money : sort of 8bit console chip sound for a game (with monkeys)
126:BC.Kid
127:Die Pacman! Die ! : pacman is in heaven now
128:Ass on Fire : physically modelled synthesis !