My first Synth1 bank is no more "officialy" available as the website where it was hosted is no longer online.
So i reuploaded it and hosted on this funky blog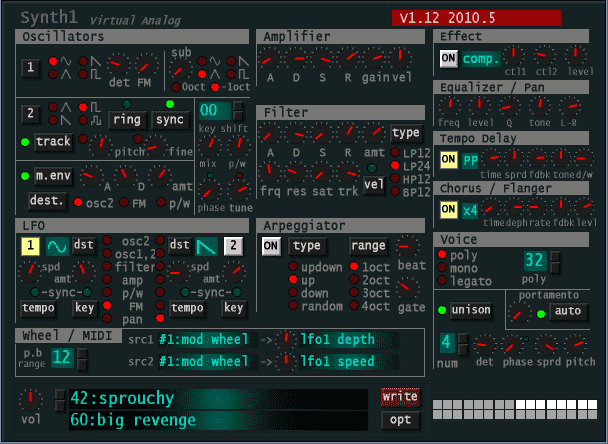 here's the file : –> Download NOW !! <–
And some quick and dirty preset demo, + the preset names list :
1:Escort Lead
2:0h Yeahhh Lead
3:Hooverized
4:Talking Acid Arcp
5:Wooden Bass
6:Solid Bass
7:Talking Bass
8:Triple Whopper
9:Perc Oraan
10:CZ Organ
11 :Cat Organ
12:Dirty Bag
13:Cvgnus Pad
14:Digital Choir
15:Trance Pad
16:Crystal Pad
17:Detroit Chord
18:UnderStabChord
19:Funky Modwheel
20:Jestofunk Stab
21:Dance Piano 8
22:Native Flute
23:In the Bush
24:Perculated Arp
25:Eurodance 90's
26:Brass Poly Lead
27:Stormy Lead
28:Yoshman PsyArp
29:WOO !
30:What this DJ ?
31:Tekno Mafia
32:Rotterdam Termination Source
33:Daftik
34:Aie aie
35:Pussycat
36:King Lead
37:Vlad Step
38:Donk Bass
39:FM Bass
40:Three0sc Monsta
41:Hooverized In The 90's
42:Can you feel it
43:Wet Techno
44:Teshno 90
45:Electrix Pad
46:Vicious Pad
47:Opera Dark
48:Deep House Pad
49:Electro Coco
50:Phat Square
51:Electro Pluckz
52:The Australian Parasite
53:Noizer Bass
54:Sucker Bass
55:Crunchy Burger
56:Talker Bass 2
57:New Gabber Kick
58:Bra!n BlaSTer Kick
59: Bestial Devastation
60:Noize Kick 4
61:Dub Siren
62:House Siren !!
63:Burn the Witch
64:No Good
65:Young Braves
66:Woody Lead
67:Funky Whine
68:Lazer Sync Lead
69:Chez Perv
70:Small Bell
71:Belly in full effect
72:Banzai!
73:D50esque
74:Pizzicatflow
75:Lost in 80's
76:Pizzicandy
77:Universal Choir
78:Organ Pad
79:Soft Choir
80:Voc 80 Pad
81:Dr. Beat
82:80 Bass 90 Lead
83:Pony Lead
84:Formulead
85:Square Acceleration
86:Lucky Pad arp
87:Party Pad
88:0Idschool Strings
89:ACID HOUSE 89
90:House Stab
91:Deep House Chord
92:House Funk MW
93:Yvette Horner
94:Clavisynth
95:FunkyTown
96:Big Top O Fun
97:Trance Reactivator
98:Dance Pwet Lead
99:Stadium Trance
100:Trance Pizzz
101:Jazz Dub
102:Slap Bass
103:Spastik Bass
104:Puppy Bass
105:WahWah Guitar
106:Guitar Zero
107:Guitar Stab
108:Naga Viper
109:Stalking Art
110:The Finest
111:Plucked Pad
112:Phazer Pad
113:Seagulator
114:IronSide
115:1000 Kazoos
116:Total Hate
117:LOL
118:Perc Organ 2
119:Arpsy Trance 2
120:Angry Duck Lead
121:Kick Drum
122:Percula
123:Zap
124:Incredible Bastard
125:Scream Ghost
126:Julien Lepers
127:Wake Up ! f*** b***
128:Coin Coin !!