How to get the radio FM broadcast processing ?
You have music that you want to broadcast, you have set up a web radio, and now you need this "FM radio sound" : loud, clear and powerful.

You can set up a chain of effects to try to achieve this FM radio sound : multiband compressor (s), equalizer, enhancer… Or you can try this "all in one" FREE plugin, intended for FM broadcasting :

Smash your sound with ENERGIZE free VST plugin
This very powerful VST plugin is old but nothing compares to it! Let's have a look in the web archive : energize free plugin
Here's the signal flow in the plugin :
As you can see, the signal is separated into 5 bands :
0-70 Hz
70 Hz – 200 Hz
200 Hz – 1KHz
1 KHz – 5 KHz
5 Khz – 15 KHz
each band is processed separately.
You can download the energize II manual here
You can download the VST plugin here
Using Energize VST in Wavosaur to get the FM radio sound
1) launch Wavosaur
2) load the music / podcast / anything else you want to process : menu File -> Open
3) click on the "rack" button to oepn the VST rack, then click on "Load VST" and choose "EnergizeII.dll"  –> EnergizeII.dll is in this archive !!!! => here   uncompress and copy in your VST folder <–
4) the VST rack should look like this :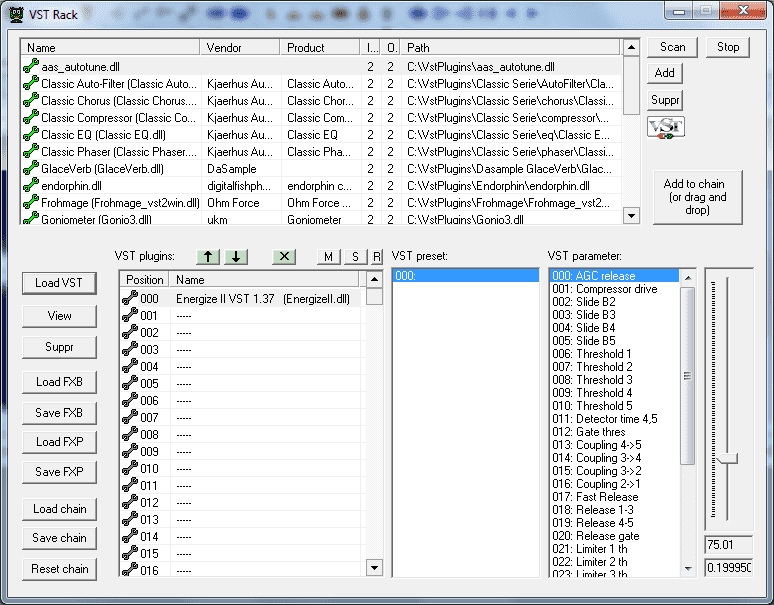 The energize plugin has no GUI, so you have to use the VST rack to access the parameters
the parameters are on the right : AGC release, Compressor drive, Slide B2 etc…
I choose to present the 1.37 version because the next versions don't show the parameters in the VST host. But if you don't have to tweak and are satisfied with the default preset sound you can download the other versions : energize plugin v 1.4
5) check "processing" in Wavosaur to hear the effect when playing, click apply if you want to process your sound!
Before / After : ready for the FM broadcasting !!
here's some before / after to show how dramatic is the effect !
Italo-dance ! note how the sound level is raised on "quiet" parts

biguine bretonne : stereo enhancing is very present

new beat / house : back to 1988

house : the level of the part without the beat is dramatically raised ! => fm radio broadcast sound

FM broadcasting yes ! but mastering…
We could be tempted to use this funky plugin for mastering purpose, but i found the effect a bit too radical. It's perfect to get this radio broadcasting sound. But if you need to master your sounds, more subtle effects are recommended, more articles will come about compressors and eq !
Nothing prevents you from using the free Energize II VST plugin for creative effects though
Big broadcast sound with Stardust VST plugin
Stadust VST is a free and incredibly good plugin, it's intended for mastering, but with extreme settings you can achieve something close to the "big fat FM radio sound"