.
"The famous Dubreq Stylophone !"
The stylophone is a toy synth, created by Brian Jarvis in a psychedelic era.
It was used by Kraftwerk, David Bowie, Pulp, Erasure and Dimitri from Paris.
We have found 3 virtual instruments on the interweb that try to capture the crunchy sound of the stylophone.
Let's go:
1. Superwave Stylophone VST
http://www.superwavesynths.co.uk/product_stylophone.htm
The best one ! the most fidel, with vibrato.
Who needs a Clavioline when there's a Stylophone:

2. Styrofoam by Delamancha
http://www.delamancha.co.uk/styrofoam.htm
Doesn't really sound like a stylophone, but is cool !
In fact, it sounds better than a stylophone.
3. StylophoneVST by Sparque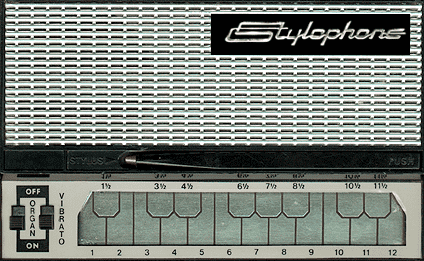 One of the oldest VSTi!
The path to the samples used by this VST is hardcoded into the dll : C:\Windows\Stylophone.dat, so you have to copy "Stylophone.dat" to C:\Windows.
The sound is between terrible and horrible (when it doesn't bug and blast your speakers), but it can be used in a creative way, if you are motived.
4. bonus track
http://stylophonia.blogspot.fr/
On this site you can find tab for your stylophone ! Now you can play the Star Wars imperial march or some songs by Lady Gaga and Bob Sinclar.