You want the sound of the good old vinyl LP's ?
You need the crunchyness of the 78rpm records ?
You want noise and dust  ? lofi and dirty ?
you can have it all !
And for free
To get your sample sounds like old recording, all you need is a DX/VST plugin that simulate the sound of the vinyl, a special dirtyfier effect!
a free vinyl plugin that add noise, dust, distorsion, to make your samples sound like if they were played hundred times on a turntable !
The best plugins for this purpose is the DirectX version of Izotope Vinyl  : freeware, old, and still fresh.
Izotope Vinyl
info and download @ http://www.izotope.com/products/audio/Vinyl/
This plugin can add wear, dust, mechanical noise and electric noise (50 Hz hum), and scratch !
there is also warping, this feature is only in the DX version, that's why we'll use a DX / VST wrapper in Wavosaur.
Wavosaur + DX/VST wrapper + Izotope Vinyl plugin = all freeware
How to get your samples sound like a vinyl ?
1) download free FFX4 Rack plugin wrapper and install it : http://vincent.burel.free.fr/download/
2) download and install Izotope Vinyl plugin : http://www.izotope.com/products/audio/Vinyl/
3) launch Wavosaur and load a sample
4) open VST rack and load vb_ffx4 plugin :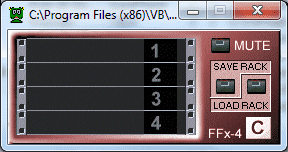 5) click on the first rack and choose "Izotope Vinyl"
6) click the "Processing" checkbox if you want to hear what the plugin does to your sound, don't hesitate to tweak the parameters, and when you're happy with your lofi sound :
7) click "apply" (and don't forget to uncheck "processing" )
Here's an exemple with the "Attic treasure" preset :
more :
There is also a free VST plugin from Tonebyte, called "vinyl" 🙂
Tonebytes Vinyl
info and download : http://tonebytes.com/vinyl/
And don't forget to mention another antique plugin for lofi lovers :
Steinberg Grungelizer
It was available for free on the Steinberg FTP, some times ago…